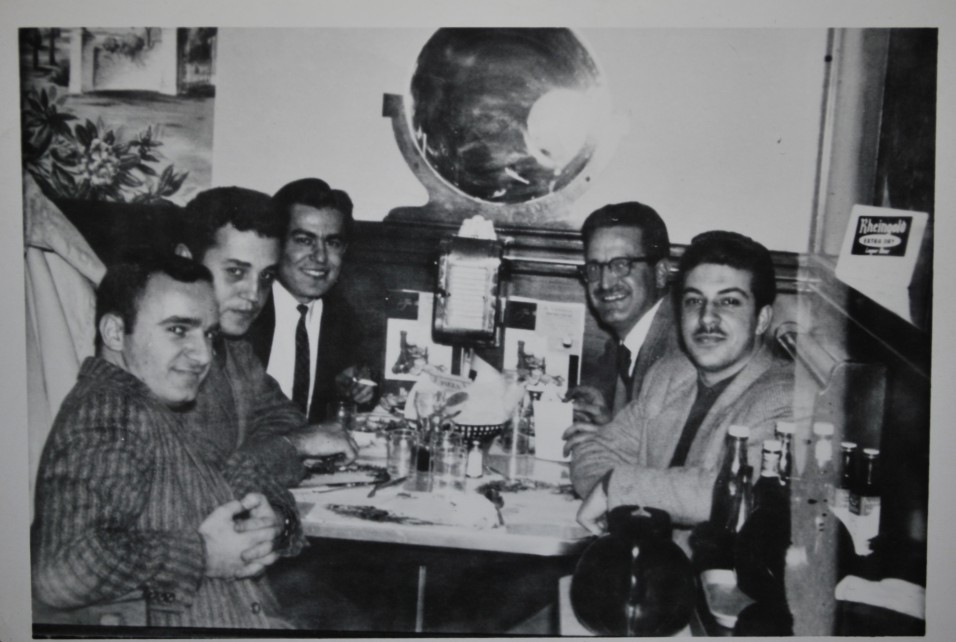 Elias Gyftopoulos with some fellow MIT graduate students (1955).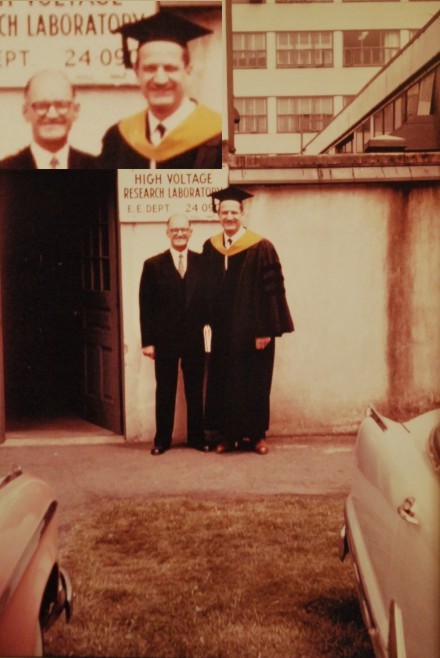 Elias Gyftopoulos with his father at MIT on graduation day (February, 1958).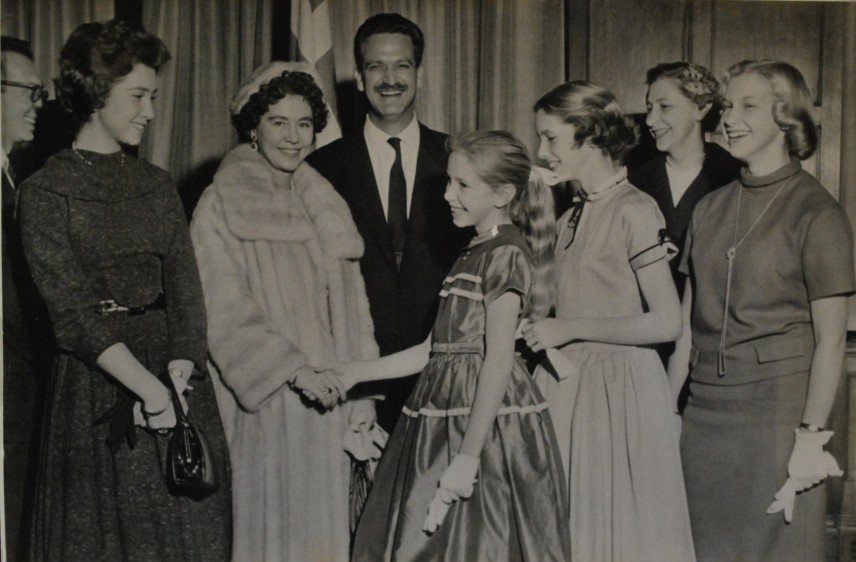 Elias Gyftopoulos at MIT with Queen Frederika of Greece and (to her right) princess Sophia (later to become Queen of Spain) (November 1958)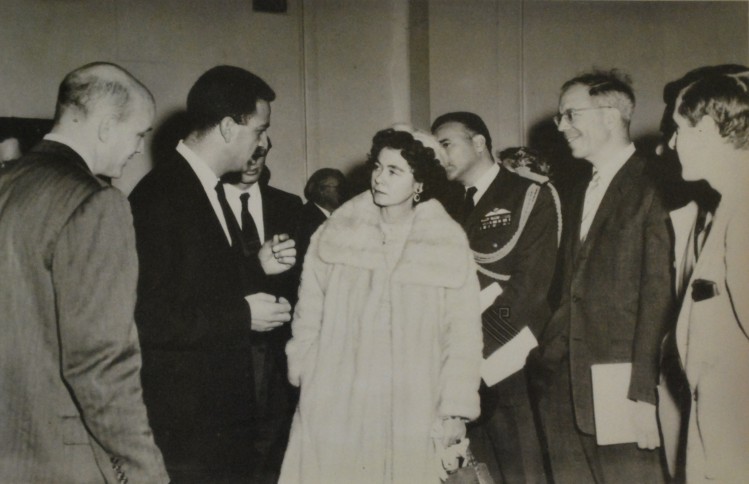 Elias Gyftopoulos at MIT is in charge of explaining technical details to Queen Frederika of Greece (November 1958)
From MIT Tech Talk - December 3, 1958
QUEEN OF ALL HEARTS
Someone described it as the "royal rusharound." Wearing a champagne mink coat, Queen Frederika of Greece arrived at MIT at 9:30 a.m. on November 17, stopped in at the Faculty Club for a "light lunch" (green turtle soup, baby lobster thermador, hearts of endive, etc.) prepared, amid mounting excitement, by Chef Dominic Tino and his kitchen crew, and ended off a full day of sightseeing and high-speed atomic discussions with a reception for Greek students in the Emma Rogers Room.
Attending her all the way were Greek-born professors George Hatsopoulos (Mech. Eng.) and Elias Gyftopoulos (Elec. Eng.). The Queen's English is good, but her countrymen helped her considerably with taxing technicalities of MIT machines like the IBM 704 and Nuclear Reactor.
Also accompanying the Queen was a full quota of protection personnel: two MIT Security men, two Cambridge detectives, three State Department agents, and, at intervals, two Boston detectives. One of the Federals was particularly strong on protocol and protection. Opening efficient swaths through curious bystanders, he once closed the door of the Queen's limousine just as two Greek-American youngsters excitedly clicked their camera shutters. But the Queen saw it happen, graciously got out of the car again for a retake.
According to one newspaper, the Queen was "especially interested in antimatter." She was also interested in, and extremely articulate on, the philosophy of science and nuclear reactors (Greece is just building its first). But no matter what the subject, of one thing everyone was convinced: the royal understanding of the most obtuse scientific subjects was just as much in evidence as Queen Frederika's genuine charm, vitality, and wit.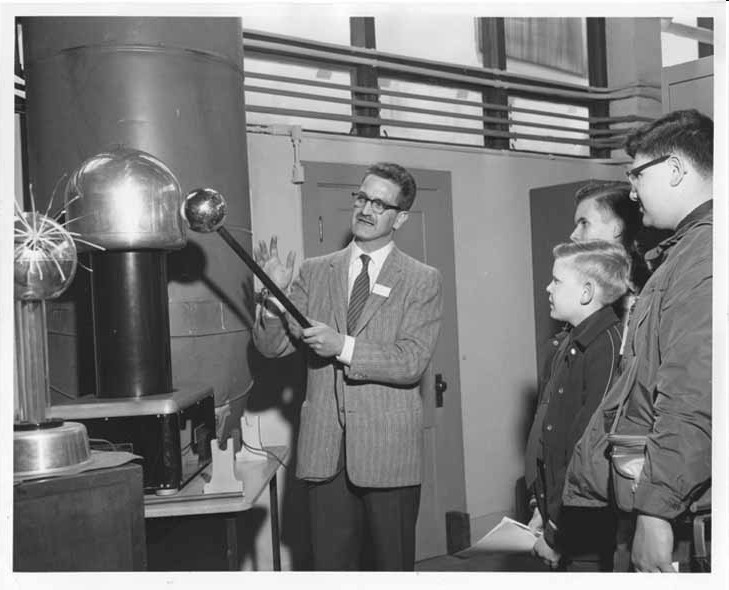 Elias Gyftopoulos in a Lab of the Electrical Engineering Department at MIT explains the van der Graaf generator to young visitors (1959, photo from the MIT Museum).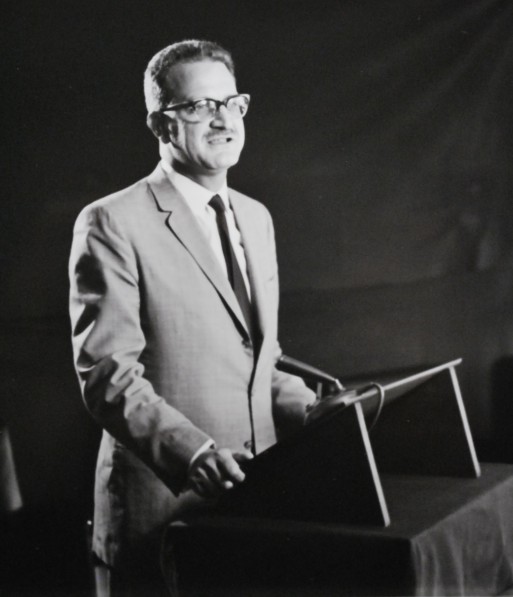 Elias Gyftopoulos at the lectern.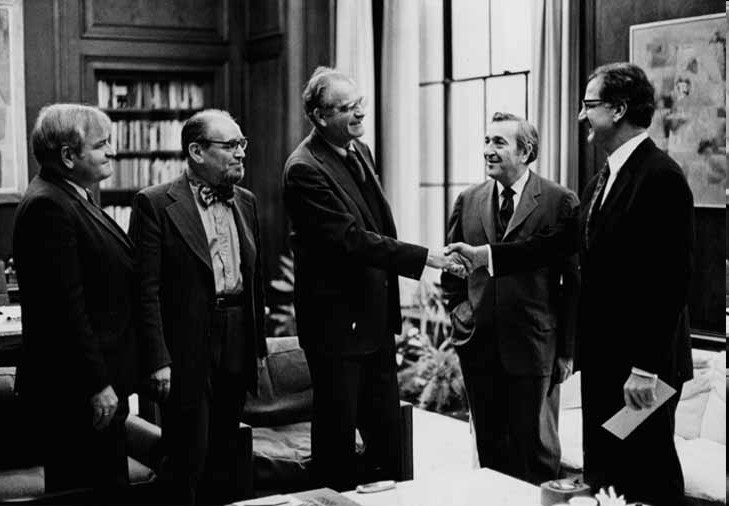 Elias Gyftopoulos as chaiman of the MIT faculty congratulates Victor Weisskopf recepient of the Killian Award in 1973. From left: Paul Gray, Walter Rosenblith, Victor Weisskopf, Gerome Wiesner, Elias Gyftopoulos. (photo from the MIT Museum)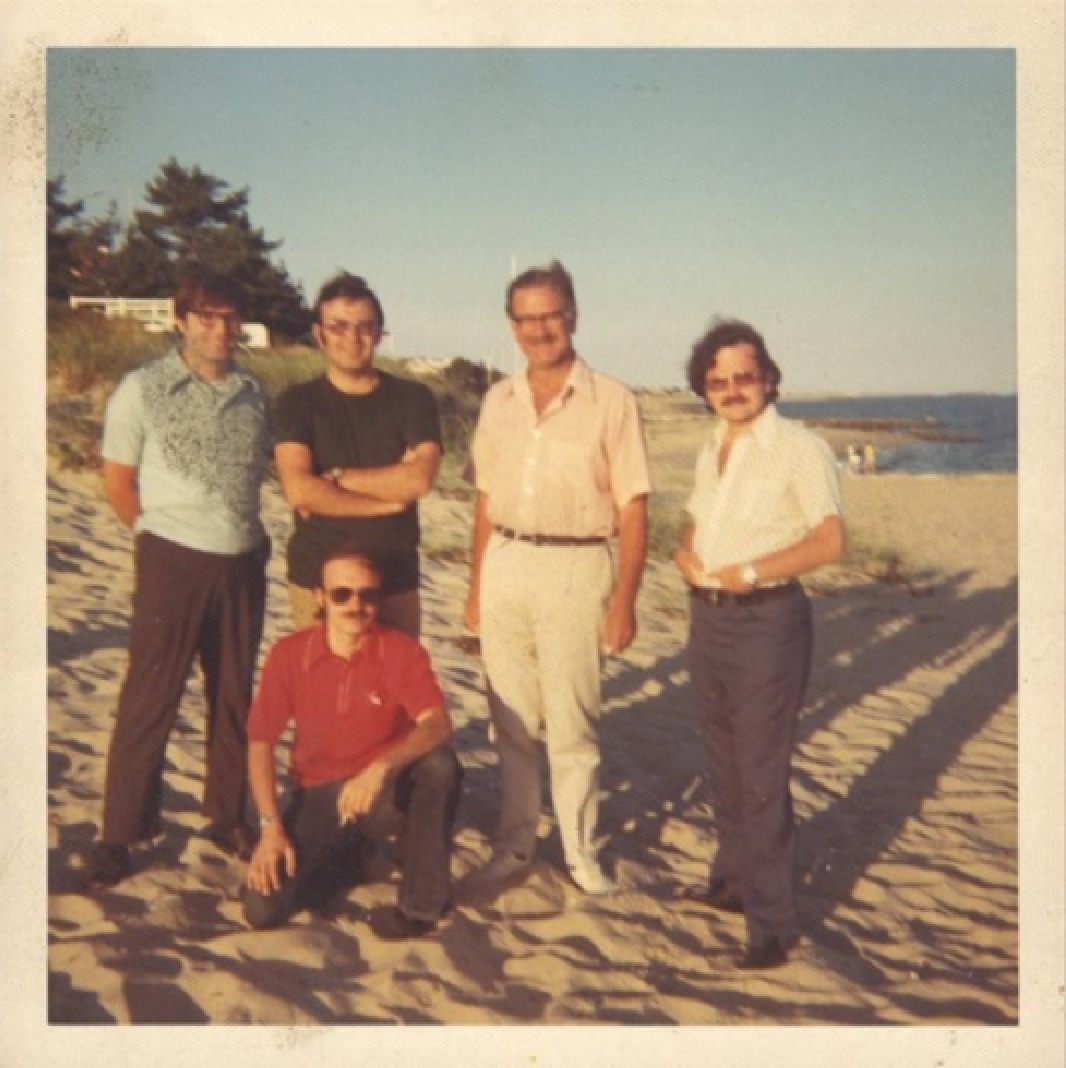 Cape Cod, Massachusetts (September 1975).
From left: Dr. Petros Antonopoulos (MIT nuclear engineering, PhD '73, now* practicing engineer in Boston), Dr. Stavros Anagnostopoulos (MIT civil engineering, PhD '73, now* Professor at the University of Patras, Greece), Professor Elias Gyftopoulos (MIT, Dept. of Nuclear Engineering), and Nicholas Peppas (MIT, chemical engineering, ScD '73, now* Professor at the University of Texas at Austin). Sitting: Dr. Ioannis Constantopoulos (MIT, civil engineering, PhD '74, now* practicing engineer in Athens, Greece).
*Photo and legenda added on October 29, 2014, courtesy of Prof. Peppas who wishes to contribute the following: Like many others, I took 22.58J (Quantum Thermodynamics) from Elias Gyftopoulos in the Fall 1972, in the same class with Michalis Delichatsios (now a professor at the University of Ulster). What an experience... This was the first time I truly understood thermodynamics. I remember with fond memories the Thanksgiving dinners at Lexington (1971, 1972 and 1973) and the very young Vasso, Maro and Rena. Ms. Artemis was a gracious hostess and the cornerstone of the family.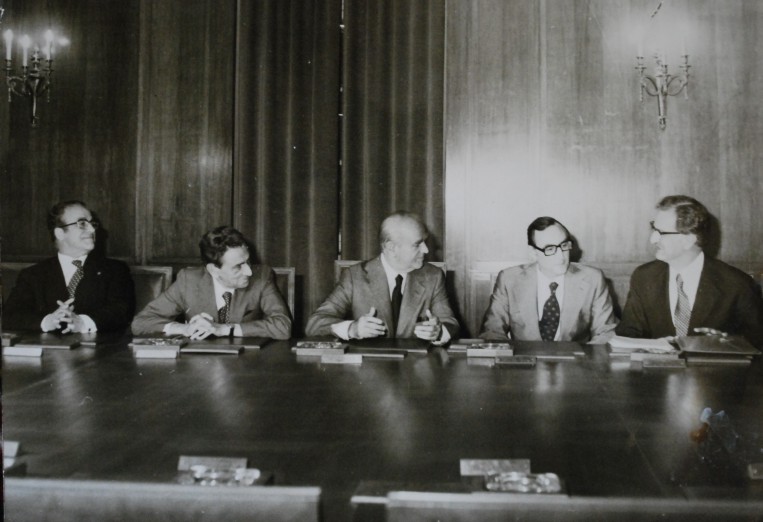 The first meeting of the Greek National Energy Council which was estabished in 1976 with Elias Gyftopoulos as the first Chairman. From left to right: the greek minister of industry Konstantinos Konofagos, the greek minister of coordination Panagis Papaligouras, the prime minister of Greece Konstantinos G. Karamanlis, the greek minister of agriculture Ioannis Boutos, and Elias Gyftopoulos.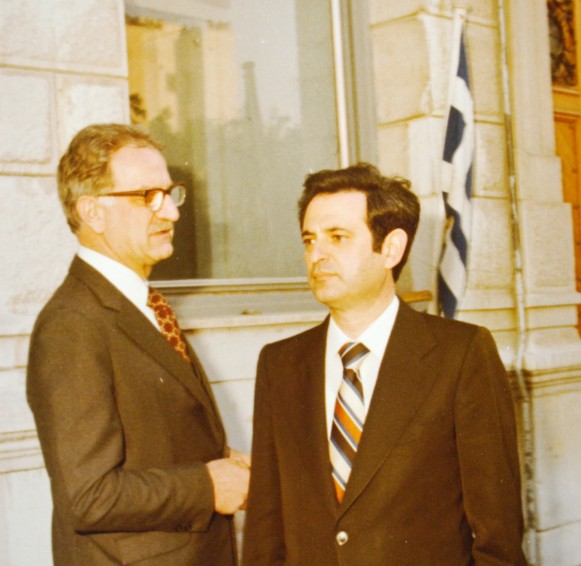 Elias Gyftopoulos, Chaiman, and Raphael Moissis, Executive Secretary to the National Energy Council in the Greek Ministry of Coordination (1976)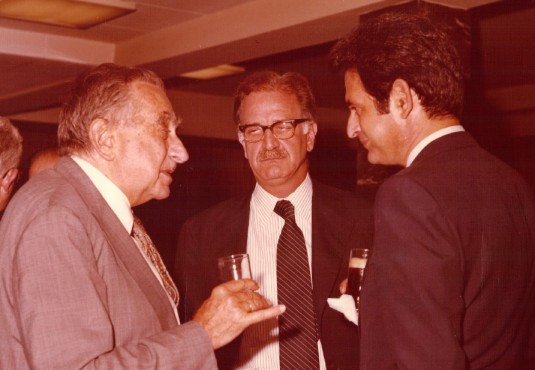 The photo shows Elias Gyftopoulos between Edward Teller and Raphael Moissis. It was taken on August 10, 1979 in the offices of the Hellenic Industrial Development Bank (ETBA) where Raphael was serving as Deputy Governor. Teller was at the time on the Board of ThermoElectron and George Hatsopoulos had brought him along in Greece together with Elias to help identify possible investment opportunities.
Nothing of substance came out of the visit except for the following story.
The party spent a night at Delphi. Teller came to breakfast the next morning and announced that in his sleep he had been visited by Pythia, the priestess at the Temple of Apollo, who gave him the following Oracle: "NEW ENERGY CRISIS PROSPECTS IMPROBABLE DISCOVERY OF LARGE ENERGY RESOURCES" whose interpretation, of course, depends on whether you put a period before or after IMPROBABLE!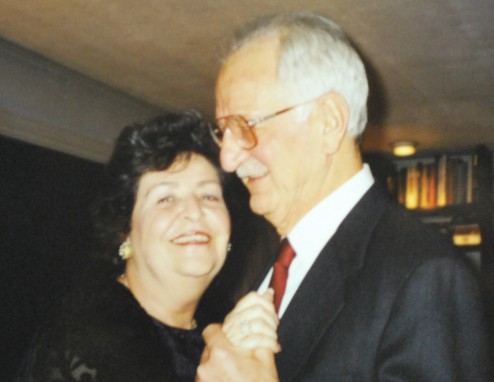 Elias and Artemis Gyftopoulos in their home in Lincoln (2001)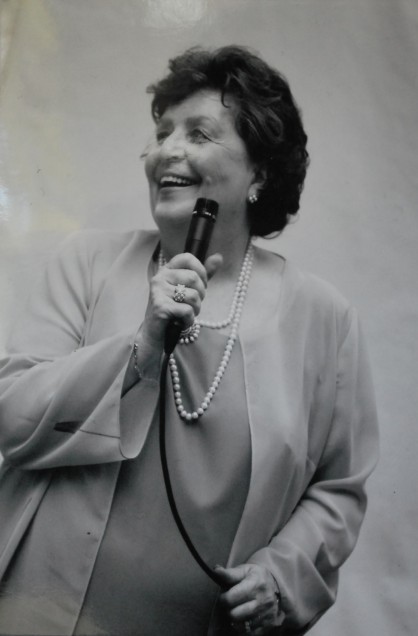 Artemis Gyftopoulos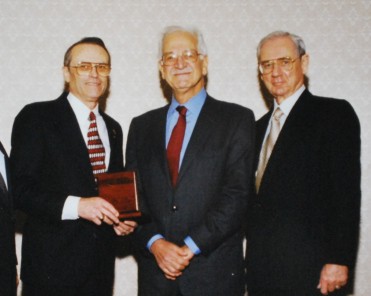 Elias Gyftopoulos receives the Edward F. Obert Award of ASME (2001)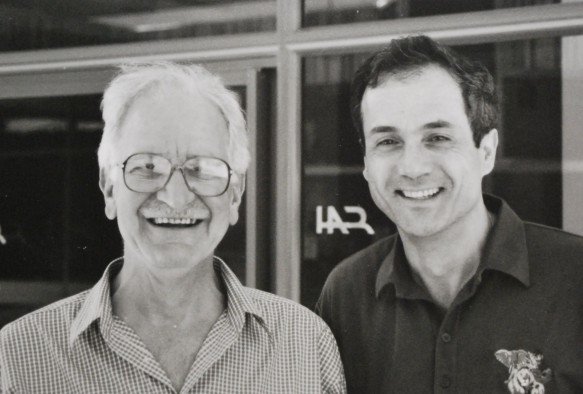 Elias Gyftopoulos and Adrian Bejan at the International Conference ECOS2001 on Efficiency, Costs, Optimization, Simulation and Environmental Impact of Energy Systems, Istanbul, Turkey (2001)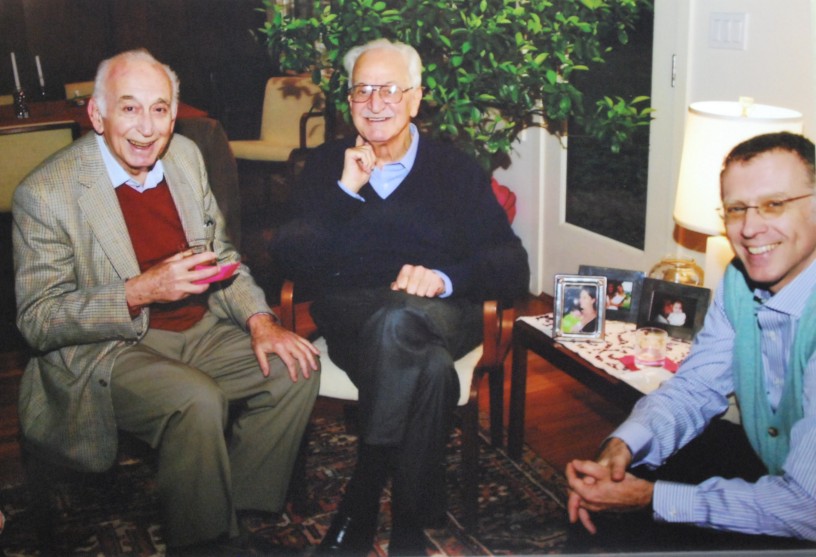 Elias Gyftopoulos in his home in Lincoln with George Hatsopoulos and Gian Paolo Beretta (winter of 2008).
If you have collaborated with prof. Gyftopoulos and you happen to have photographs with or of him in a Lab or at a Conference, please do share them with us, send them to and we will consider adding them to this photo gallery. PLEASE provide also text to accompany each photo possibly identifying the date or period.